General information and T&C

COOKIES EN HOTELANTS.COM
Disclaimer/ Privacy Policy
Hotelants is committed to safeguarding the privacy of users of its website. On this page you can read what personal data we collect, how we use it, the way we secure it and your possible choices regarding data you may or may not want to share with us.
Right of access
You have the right to inspect any personal data we hold about you. If you wish to inspect your personal data that Hotelants has registered you can send an email.
Purpose of data collection
Hotelants may use your name and e-mail address to inform you about news about Cosmo or to send information about job opportunities that may be of interest to you. Hotelants will not hand over or sell your e-mail address to third parties. You can indicate whether or not you wish to receive such information from Hotelants when sending your CV (and also thereafter). Information on how to influence or change the use of your information is below. The personal information, such as name, (e-mail) address, telephone number, that we collect for example as a result of your registration or CV is only used at an aggregated level. This information will remain confidential. Be aware, however, that no transmission over the internet is 100% secure. Your CV is stored directly in our database to which only our own consultants have access. Without your express consent, Hotelants will not provide any of your personal information to third parties, including clients. For you, our consultants will check your details against those of clients and notify you accordingly. You will only be introduced to the client after an interview has been conducted and you have been informed about the content of the relevant vacancy. Incidentally, hotelants cannot guarantee that a client will request the information you provide, invite you for an interview, offer you an (employment) contract or fulfil your own career wishes.
Hotelants does not sell or rent your personal data to third parties. We only use this information to best match the content of our site to the needs and interests of our users and to further improve the quality of our services.
Hotelants records IP addresses and browser types. However, we do not link IP addresses to personal data, this means that while the user session is recorded, the identity of the user remains anonymous. We use these IP addresses to discover trends, analyse site usage and gather broad demographic information for aggregate-level applications.
Data collection
Hotelants allows you to submit your curriculum vitae to it. In this way, hotelants can check your data against those of our clients. This data will only be made available via the Internet in a secure manner and only to yourself and Hotelants.
Right of correction
You can terminate all data you have provided Hotelants by sending an e-mail to Cosmo. Your name will then be removed from our database within one working day.
Right to object
You have the right to object to the use of your data. Hotelants will assess whether the objection is justified within four weeks of receiving the objection. If the objection is justified, it will immediately terminate the processing. You can send your objection to Hotelants.
Duty of notification Hotelants
Data processing is reported to the Dutch Data Protection Authority Hotelants adheres to the requirements of the Data Protection Act (WBP).
GPDR – in EU.
I agree to these terms
By using this site, you agree to Hotelants' information collection, privacy policy and code of ethics.
Changes to the Privacy Policy/Ethical Code of Conduct
If we make any changes to the Privacy Policy, or Code of Ethics, they will be published on this page. If the data or the way it is used changes, we will notify you via the address as we have it in your personal profile. We encourage you to visit this site from time to time to keep abreast of the policy. If you have any questions about Hotelants' privacy policy, please email info@hotelants.com.
Disclaimer
The information on Hotelants.com is created under the responsibility of Hotelants. Hotelants takes the utmost care to make and keep the content of www.Hotelants.com as up-to-date, accessible, correct and complete as possible. However, it is possible that the content of this site is outdated, incomplete and/or incorrect. No rights can therefore be derived from the content of this internet site. Hotelants cannot be held liable for the consequences of the use, in any way whatsoever, of the information offered on www.Hotelants.com. It is possible that the internet site of Hotelants provides access to internet sites and/or sources of information that are maintained by third parties. Nor can Hotelants be held liable for the consequences of using the information on these internet sites and/or pages.
At Hotelants, we understand that every property and structure has its own unique entertainment needs. That's why we offer customized entertainment programs that are tailored to each of our clients. To see a sample of our plans, simply reach out to our expert team. For your convenience, we also offer pre-made packages that you can access with just one click.
Our talented entertainers, nicknamed "Ants" and "Ant Colonels," are carefully trained at the start of each season and receive a thorough briefing on the specific needs and desires of our clients. With a 24/7 HR support team, you can rest assured that your entertainment needs will be met. If any of our overseas staff members are unavailable for more than 72 hours, we will promptly provide a replacement to ensure a seamless experience for everyone involved. Join us and let's create incredible stays together!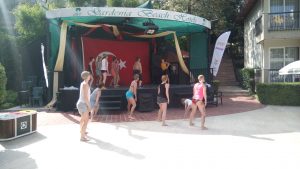 We invest in our staff through our comprehensive training program, the Hotelants Academy.
As part of our recruitment strategy, we provide a five-day training course that covers a variety of important topics, including:
– incident and accident reactions
– child awareness
– health and safety in the tourism industry
– professional relations with hoteliers and tourism professionals
– programmatic and shows
– customer satisfaction company guidelines and code of conduct.
– sports and arts and crafts.
Our goal is to ensure that our staff are equipped with the skills and knowledge they need to provide exceptional entertainment experiences to our clients."
Hotelants Senior Entertainment Services offer. 
Hotelants provide an unique entertainment experiences to residents & seniors resorts.This unique experience is only available in Belgium (BENELUX). This services is supported by formed employees. 
All information regarding activity, price or health and safety: 
Please contact info@Hotelants.com
 
Download here our activity manual.
Unique creativity & Eco friendly
Every day is an important day to create memories but if you can add an extra-Ecological atmosphere than you reach nearly the perfection. That's one of the most important objective within the Hotelants Group.
Get your animation team ready for your next season : info@hotelants.com